It's best to search for ancestors by entering one term in the search box below such as surname, a city or town, a county, a state, a country or a keyword such as England, Civil War, CDV, Minnesota, Pennsylvania etc.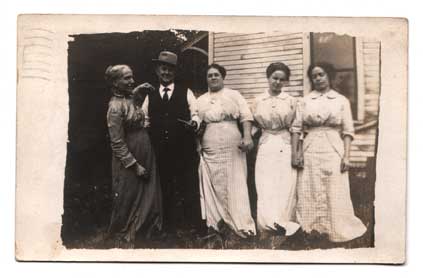 Welcome! 4,000 19th c. Female Girl Names:
Over 4,000popular 16th, 17th, 18th and 19th and early 20th century Victorian women's forenames, Biblical names, baby names, odd names, uncommon names, rare names, strange names and nicknames for genealogy research, all found in census records are listed below, as well as early Revolutionary war era 18th c names. We also collect old nicknames, can you help?emailus with more. This is also a great source for searching for old antique babygirl names. Thanks! ~debra from Ancestorville, find us on FB here. This page is dedicated to "Charlen" or Helen Charlotte Kyle 1941-2017.
Please check out our Victorian Male, Boys Nickname Pagehere.
(Video) 50 Beautiful Arabic Baby Girl Names
Debra's otherAntiques Devon, England site is here.

NOTE:
Many of these old American names are from the Bible, Biblical names. Many are English from England, Scottish from Scotland, irish from Ireland, Welsh from Wales, British from the United Kingdom and brought to America USA, Canada, Australia and the colonies. They range from the Georgian era to the Victorian era to the Edwardian era.
...AND CLICK HERE to view and buy 1000's of antique ID'd lost family photos for genealogyat Ancestorville
______________
(Video) Rare Classic Baby Names from the Georgian & Regency Period beyond Mary, Margaret & Elizabeth
AbbieorAbbyis usually a nickname for Abigail

Abigail, Abigale, Abagale, Abagail
Abilene, biblical, book of Luke
Abisska
Absalom, Abbie
AchsahNacheus,she went by Nacky 1850's.
Adafor Zorada, Adelia, Adela, Adelaide, Adele, Adeline, Adelle, Adeline, Adaline,Adelina, Adelpha, Adina, Adine, Adena, Adolpha, Adonia, Adora, Adorabelle, Adorlee, Adorlee.

Adah, biblical
Adalia, biblical
Adelia
AdelgundaGunda
Adell, Adella, Adelle, Delia
AddyorAddiemay be a nickname for Adru, Adaline, Adeline, Adelia, Adella, Adelaide, Adelphia, Adda, Adeline.

Adlenia
Adley, biblical, hebrew
Adeliza
Adelle, Adele, Addele
Adriel, biblical
AggieorAggyis usually a nickname for Agnes, Agnesia, or Agatha, Aguste

Agrippa, Aggie
Alantha, Lanthie
Albenia, Albie, Alby
Alberda, called Bird, Birdie, Berdie
Alexandrina: Queen Victoria 1819-1901 "Alexandrina Victoria" was called "Dina" when young.
Alexandria, Alex, Lexxie, Drina, Dria
Alfie,Alpha, Alfreda, Alfonsine, Alphonsine.

Allie, Ally, AllaorAllifor Allein, Almiar, Alice, Aileen, Alberta, Almena, Alyssa, Alyce, Alvina, Alva, Alura, Alula, Althea, Alta, Alpha, Aloysia, Alonza, Aloha, Almira, Alma, Allison, Allene, Alanna, Allegra, Alisa, Alla, Aliza, Aline, Alina, Alima, Alida, Adelita, Alfonsine, Alexis, Alethea, Aleta, Aldora, Alda, Aldora, Albinia, Alcina, Alarice, Alameda, Alanna, Alamena, Allison, Alison, Alexandra, Alexina.
Alethea, Aletha are female names.
Alderose is a female name, nickname may be Rose, Allie, Alder
Alex,Alexandra, Alexina, Alexandrina
Allis, Allice, Alice
Almiar
Almira, Mira
Almyor Almeyfor Alma, Almida, Almeda, Almiar, Alminda
Alphronia, Alphie, Phronie, Phronia
Alta, Alty
Alvah, biblical
Alveda, Veda, Vedie
AlvieorAlvymay be a nickname for Alvenia, Alvena, Alvera, Alvira
Alveretta, Veretta, Alvaretta, Rettie, Alvy
Alycanne, Aly
Andelilah, Delilah, Ann, Andy
Amanda, Manda, Mandy
Amadie, Ammie
Amorancy or Amorancey,Amoransa
Ama for Amabel, Armabelle
Amma or Ammie, Ammy may be a nickname for America, Amelia, Amandine, Amorancy, Amorancey, Amoransa, Amoranca, Amata, Amber, Ambrosine, Amethyst, Amy, Ami, Amity, Amaline, or Amanda
Amelia
Amercia, Mercy
America
Angieis a nickname for Angelina, Angela, Angel.
Anniefor Annis, Anne, Annabelle, Analine, Anna, Anita, Ann, Antoinette, Antimilla, Antemilla, Anstis, Anzella or Antonia.
Annalise
Anastasia, Anistasia, Anistacia, Anastasa
Annis is a 19th c. name, Ann may be the nickname
Anzella, Annzella
Antoinette,Antoinetta
Antonia
Appha, Apphia, Aphia
ArdyorArdie, DenaorDeniemay be a nickname for Ardenia
Areli, biblical
Armada, Armanda
Arizona
Arkansas
Artha, Artemesia, Artemesa
Arvazine, Arva
Arvie or Villa may be a nickname for Arvilla.
Asenath, known as Nathie, Senna or Sennie
Asher, biblical
Assunta
Athaliah, Liah, Athie, Athy
Atarah, Attie, biblical
Augustus, Augusta, Gussie, Gusta, Gustus, Gussy
Aura, Aurie
Aurelia
Aurora, Aurare
Avarilla, Averilla, Rilla, Rillie
Awilda, Wilda
Azelee, Azel, Lee, Zellie, Zelee
Azubah, Azu, Bah
Baize
Balonda
Barb, Baa, Bahfor Bobbie, Barbara, Barbie or Barbary, Barbery.
Barthena, Bart,Barthie
Bartholdy, Bartha
Bashaba, Basheba, Bathsheba, Bahsheba
Bath or Bathie for Bathsheba, also Sheba below
Beady, Beadie
Beatrice, Bea, Beah
Becca, Becky for Rebecca
Bela, biblicla
Bellefor Isobel, Isobella, Isabell, Isabella, Isabelle, Belinda, Rosabel, Rosabella, Arabella, Arabelle, Belia, Belva, Bela, or Bellanca.
Bennedetta, Benna
Bernadine, Bernie, Berna, Dina
Bessiefor Bess, Betsy, Bessy, Elizabeth, or Elisabeth.
Beryl
Bertha
Bessah, Bessa
Bethmay be a nickname for Elizabeth, Hepzibeth, Hepsybeth or Hepsibeth, Bethel, Bethany, Betha, Jobeth, Bethsaida, Bethan, Bethann, Bethanne, Clarabeth, Lilybeth, Lorabeth, Loribeth, Maribeth, Marybeth, Sarabeth, Sarahbeth, Bethsaida and Corabeth.
Bethan
Bethsaida
Betsy for Elizabeth.
Bertha was found as a nickname for Bethsaida
Bezzie
Bexley, Olde English
Bibiana
Biantha
Biddy or Biddie for Bridget.
Bincy
Birdiemay be a nickname for Bert, Byrd, Birt, Delberta, Roberta, Bertalina, Elbert, Elberta, Alberta, Burt, Bertha, or other names, both male and female.
Birdina
Bithia
Blaine, Blaina, Blainah
Blanche, Blanch
Bly, Blyth, Blythe
Bobbie, Bobbi, Bobby for Roberta. Also for Bobbette.
Brittan, Brittanica, Britt, Britty
Briton, Brittany
Brownie
Brittania, Britty
Buena Vista,known as Bunie, Buenie
Bunny, Bunnie for Bernice
Burland, Burlie
CaddyorCaddiefor Cadelia, Candace, Caroline or Cadwyn.
Callie and Lindy are nicknames for Caroline, Clarinda
Caldonia, Doney, Dona
Cammiefor Camryn, Camille, Cameron, Camilla, Cameo, Camden, Cambria.
Camley
Candice, Candace, Candy
Canniefor Americana, Candice, Candace, Candide, Candida, or Candy.
Canique
Capitola, Cappie
Cara or Carriefor Caraline, Carafilia, Caroline, Carolina, Carolyn, Carol, Carruth.
Carmela, Carmelia, Carm
Cecelia, Ceil, Cele
Celestine, Lessie, Cellie, Tina, Tine
Celesta
Celestia, Tia, Lestie
Celia
Celinda
Cenith may be a nickname for

Acenith.

Cenea
Charlyn, Helen
Charlotte, Charlotta, Charlotty, Lotta, Lottie
Charrie, Char
Chas, Chastina, Chassie
Chastene, Chastena
Cheremay be a nickname for Cheredal.
Chessie, Chess
Chrilla
Christmas
Ciccigambus,known as Gam or Gammie
Cinda or Sinda, may be a nicknamefor Lucinda
Cinderella, Rella, Cinder, Derella
Cintha
Claramay be a nickname for Clarissa, Claribel, Clarabelle, Clarabell, Clarice, Clarinda, Claramae, Claresta, Clarimond, Claire.

Clar, Clare, Clarrie, Clarie, Rindafor Clarinda, as well as Lindy.
Clarence for a female, Clare
Clementine,Clementina, Clemmie, Clem, Tine, Tiny, Tina
Cleophee, Cleo, Cluff, Cluffie
Clyde, Clydia, Clyda
Conantine, Conant, Connie, Tina, Tine
Concetta, Cettie, Connie
Comfort
Corie, Cory, Corry, Corrie may be a nickname for Cory, Cora, Corrine, Cornelia, Corella, Corette, Corrina, Correne, Corene, Corra, Coretta, Corabelle, Coral, Coraline, Cordelia, Corissa, Corisa, Corrissa, Corliss, Corey, Corence.
Corda
Cordelia, Dilly
Corinda, Rinda, Rindy
Cornie short for Cornelia.
Corolin, Corolynn, Coroline
Crece or Crese for Lucretia.
Cyntha, Syntha
Cynthia, Cindy, Cyndy, Cyn, Cynnie
Czarina, Czar, Rina
Dacie, Dacia, Dasia for Lodasia, Lodacia, Lodecy
Dafney, Daphne
Daisy
Damaris
Damona
Daniefor Danielle, Dana, Dane, Alydane, Daniela, Daniella, Danella, Danelle, Danica, Danika, or Danya.
Daphne, Daphm Daphie
Dashiel, Dashie, Dashy
Debra, Deborah, Debora, Deboram, Debory
Decima, Deccie
Dierdre
Deezy, Deesie, Dezie
Delia for Cordelia, Fidelia, Fedilia
Delicia, Dellie
Dell, Del, Dellie, Delly, Della for Odelia, Fidelia, Fedelia, Deliverance.
Deliverance
Delphia, Delphy, Delphine
Demerius
Derella, Rella
Derenda, Renda
Desdemona, Desdemonia, Mona, Dessie
Desire
Diana
Diantha
Dica, Dicas
Dicy, Dicey for Candice, Denize, Darcy, Darcey, Dicia, Eurydice, Eurydicia, Edith, Diana,Laodicea, Lodicy, Lodicia, Luradice, Leodicia, Theodocia, Theodosia and it also became a name on its own (seems to be seen more in the South) in the 19th century. May be related to Deezy, Deezey.
Dina, Alexandrina Victoria was the full name of Queen Victoria 1819-1901who was called Dina when she was young.
Dinah
Docie, Docia for Theodocia, Theodocie.
Dolores, Dodie, Dode
Dolly, Dollie, Dollfor Dorothy.
Donalda
Doney, Donie
Donata
Doe
Doie
Doraor Dorrie, Dorryfor Medora, Midora, Eudora, Dorothea, Dorothy, Dolores, Theordoria, Theodora, Eldora,
Dorcas
Dorlisca, Lissie
Dorothy, Dotie, Dottie
Dorothea, Dolly, Dot, Dottie
DotorDottiemay be a nickname for Eudora, Dorothea, Dorothy, Dolores, Theodora.
Dove, Dovie
Drusilla, Drewsilia, Drucilla
Duella, Dueuella
Dulcema, Dulcibella, Dulcinea, Dulcia,Dulcie
Duty
Dweria
Eaditha
Earie
Echo
Edamay be a nickname for Edith or Edna
Edely, Edella, Edelia
Eddie for Edwina
Edis
Edith, Edie. Eidith
Edlizia, Eddie, Lizia
Edna
Edwina
Effie, Effafor Josephine, Erphelia, Ephelia, Ophelia, Orpha, Orphelia, Euphemia, Evelyn, or Efa.
Eidith
Eileen, Aileen, Irish
Ellaor Ellie may be a nickname for Elitha, Elata, Elatta, Elloney, Elmina, Helen, Helene, Elva, Elvina, Elvira, Elsie, Elsa, Eloise, Elna, Elmira, Elnora, Eleanore, Ellice, Elma, Elyse, Gabriela, Gabriella, Elnora, Eleanor, Elenore, Ellenore, Ellen or Luella.
Eleth, Elith, Elethiane
Eleanor, Elinor, Elnor, Elonor, Nora
Elephalet, Eleph, Lettie
Elaretta, Retta, Rett, Rettie, Ella
Elcie
Ellice
Elisha
Elizia
Elinor
Ellender, Ellen
Elmer
Elmina, Elminah, Elmy
Elloney, Ellany, Elleney
Elmamay be a nickname for Gulielma.
Ellowyin, Ello, Wyn
Elsabe
Elsbeth, Elspeth, Beth, Ellie
Elsiefor Eliza, Eloise, Eloisa, Elissa, Elizabeth, Elisabeth, Elsa, Elise.
Elsleth, Lethie
Eltha, Elthie, Elth
Elva
Elveda
Elverta, Verta, Vertie, Elvie
Elvira
Emaline
Emarintha, Rintha
Emerald, Esmeralda
Emlyn
Emmamay be a nickname for Emily, Emmagene, Emaline, Emiline, Emmy, Emmy Lou, Emeline, Emelina, Emelyne, Emmeline, Emmaline, or Ema.
Emmolia, Emmoliah
Ena
Enid, Ened
Enis, Enas, Enes
Enid
Ennis
Eola
Eona
Epsabia, Sabe, Sabia
Epsqueine, Epsy
Esme
Erie
Erme, Ermie
Ermes
Ermin, Ermentrude
ErphieorErphymay be a nickname for Erphelia or Erphilia.
Esleth, Essie, es, Leth, Lethie
Esler, Essie
Estella, Estelle, Stella
Esther
Ethamay be a nickname for Ethalinda, Etheline, Ethelia.
Ethel
Etherlinda
Etta, Ettah, Ettie,orEttymay be a nickname for Harriet, Harriett, Henrietta, Henriette, Margaretta, Lenetta, Lenette, Jeanetta, Jeanette, Ethel, Georgietta, Antoinette, Euretta, Izetta or Loretta.In Scotland, It is seen as a nickname for Margaret.
Euddie, Eudy, Euddymay be a nickname for Eudora.
Eugenia, Eugenie
Eula
Eunice
Euphemia, Phemie, Effie, Ephie
Eustace
Eskell
Estamond, Esta, Mondie
Ethel may be a nickname for Ethelind.
Euna
Eugenia, Genia, Gena orknown as "Jennie"
Eunetia, Eunitia
Euphrosine, Euphro, Euphie, Euphrie
Euroxa, Roxa, Uroxa
Eusalia, Eusabia, Euzalia
Eusebia, Eusabia
Euzeba, Euzebia

Evamay be a nickname for Eveland, Evangeline, Evaleen, Evelyn, Eve, Evaline, Evie, Eveline, Evette, Evetta, or Evita.
Evangeline
Evadne, greek
Evelyn, Eveleen, Eveline, Evelina, Evvie,
Evanella, Evenella
Eveland
Experience
Ezrina, Ezzina, Ezzie, Ezzy
Fae
Faedra
Fair
Faith
Fannie, Fanny, Fran, Franny, Frannie may be a nickname for Frances, Franzenia, Franzia, Francelia.
Farewell
Fayette, Fay, Faye
Felix, biblical
Feraby, Ferrie
Fear is seen as both a female and male name.
Ferliebell, Ferliebelle
Filomena, Filomina, Filo
Fina for Josephina
Flavilla
Fleta, Fletie
Flora, FloorFlorriemay be a nickname for Florence.
Flossieis a nickname for Francine, Florence Frances.
Floy
Frankie for Frances
Fredafor Freida, Fredia, Freda, Fredella, Fredericka, Frieda, Frida, Frederique.
Fredora
Free
Freegift
Friend
Frieda, Frida
Gail
Gailyn
Galen is seen as both a female and male name.
Garaphelia is a female name
Garnet, Garnette
Gay, Gaynell, Gaynella, Nell
Gayther
Georgiefor Georgene, Georgina, Georgine, Georgette, Georgia, Georgiana, George or Georgina.
Genevieve, Gen
Genevra
Genesis, biblical
Gertrude, Gertruda, Gertie, Trudy
Gerusha, Jerusha
Giacinta, Cinta
Giaginta
Giddy, Gid, Gideona, Gidona, Dona
Gill, Jill, Gillian, Gilian, Jillian
Ginny for Virginia.
Giselle
Giuseppa
Glad, Gladden
Godsgift
Godsend
GollieorGollyis a nickname for Goline, Golinda.
Golda, Goldie
Grace, Gracia
Gregorian
Gretchen
Grizzie (or in its proper form Grizel) is an old Scots, Scottish name for Grace. Grizzie also may be a nickname for Grizelle,

Grizelda

or Griselle.
Gudrun, Guddie
Gussiemay be a nickname for Augustina, Augustine, August, Augusta, Gustava.
Gwenllian, Gwenillian, Gwenillan, all Welsh, Gwen, Gwennie
Haddie, Haddy or Heddy, Heddiemay be a nickname for Hedda, Hedy, Hedda, Hedwig, Hadria, Haidee, Harriet, Harriett, Henrietta, Henriette, Hadden.
Halliemay be a nickname for Mahala, Mahella, Mahalla Mahalia, or Mahaley.
Halsey
Hannah, Hanna
Hattiefor Harriet, Harriett, Henriette, Henrietta, Haidee, or Hadria.
Hazel, Hazeltine, Hazeltina
Henryette, Henryetta, Henrietta
Hepsy, Heppy, Heppie, Hepsa,Hepsi, Hepsie, Hepsor Beth may be a nickname for Hepsybeth, or Hepsibeth, Hepsabah, Hepsiba, Hepsibah, Hepziba, Hepzibah, a Victorian era woman's name.
Hermeline, Hermie
Hermione, Hermie
HertieorHertyfor Hortense, Hertha, Herta, Hertense, Hertensia.
Hesperance, Hessie
HettieorHettymay be a nickname for Henryetta, Henrietta, Natalie, Hazel,

Hester, or Mehitable.

Hilda, Hildie, Hildy
Hilma
Hollena
Holly
Hollybranch
Hope
Honey
Honor, Honour
Hortensia,known as Hortie, Horten, Tensia, Tensie, Ten or Tennie
Huldyis a nickname for Huldah, Hulda, Mahuldah, Mahulda
Hyacinth, Cinth, Cinthie, Cin, Hy
Ianthia, Ian
Ibby, Ibbie, Iberia
Icephemia, Isaphemia, Isephemia,Isyphemia: Phemie, Icey, Pheme
Ida for Idalie, Idalin, Idalu, idaluh, Idella, Idell
Iley
Ilizabeth, Iliza, not a typo
Ima
Imelda, Melda
Isyphenia, Isyphena
IveyorIvymay be a nickname for Ivanilla.
Irena, Irene
Izora, Izzie
Jaala, biblical
Jaaziah, biblical
Jacintha, Jacie, Cintha
Jacqueline, Jackie
Jacobina, Bina
Jael, one who ascends, Hebrew
Jaila, Jaily, Jail
Jamesina
Jan, Jannie, Janny
Jane for Virginia
Janet, Jannet, Janette
Janice, Jan
Jasmine
Jeanniefor Jeannette, Jeanette, Jeanne or Jean.
Jeanette, known as Nettie
Jemima, Jamima , Jemimah
Jemina
Jemmelle, Jem, Melle, Melley, Melly, Mel
Jennie, Jennymay be a nickname for Jennette, Jennet, Jennett, Eugenia, Genevieve, Jane, Jennifer, Jenny, Jenevieve, Gennifer, Genna, or Jenni. Jenny has also been used as a nickname for Johanna. As in the famous singer Jenny Lind in the 19th century (Johanna Maria Lind (1820-1887), known as Jenny Lind, was a Swedish opera singer, often known as the "Swedish Nightingale").
JerrieorJerrymay be a woman's nickname for Jerusha.
Jerica
Jerusha, Jerosha,Gerusha, Jerrie, Jera
Jessie, Jessfor Jessee, Jessica, Jane, Janet, Jeanette, Jesse, Jessamine.
Jill, Gill, Jillian, Gillian
Joan, Joanne, Joanna, Johanna, Johannah, Jo, Joe
Joannem
Jo, Josey,Josie, Finafor Josephine, Josephin or Josephina, Josefina
Jocelyn, Jocelin,Joccie, Joce
Joellen
Johnnie
Josepha
Joy
Joyce
Juanita, Nita
Jude, Judah, Judia
Judith, often called "Judah", West Virginia family.
Juliet, Juliette, Julia
Jules or Jule may be a nickname for Julia, Juliam.
Juna
June,Junetta
Junia, biblical
Jussie, Juss
Justina, Jus, Jussie
Kamary, Kammie
Kerenhappuck, Kerenhappuch, Keren Happuch, Biblical name ofone of Job's 3 daughters, sister to Jemimah and Keziah.
Keturah, Ketura,Kettie, Urah, Ura, Ketty
Kezzy,Kezzie, Kizzy, Kizziemay be a nickname for Keziah, Kezia, Kizia, Kiziaha which are all Victorian era woman's name.
Kate, Katie, Katey, Katy, Kitty, KittieorKitmay be a nickname for Kate, Katherine, Katharine, Catherine, Catharine, Kathleen, or Cathleen.
Lacie, Lace, Lacey, Lacia
Lalliemay be a nickname for Ellen, Laila, Layla, Lelia, Laura, Helen, Eleanor, Lalage, Eulalia, Eula, Delilah, lalah, Lalita, Lilah, or Lillian.
Landa
Laska
Lavanta, Lavantia
Lavar
Laverna,Laverne, Verna, Lavvie
Lavina, Vina, Lavinia, Vinnie
Leagrona, Lagrona, Leahgron, Legron, Legrona
Leah, Lea
Lee, Leeann, Leeanna
Leia, Leah
Leona
Lenamay be a nickname for Celine, Selina, Celina, Magdelina, Magdelena, Madeline, Helen, Helena, Helene, Evaline, Darlene, Kathleen, Arleen, Arlena, Arlene, Aileen, Adaline, Adeline, Caroline, Carolyn, Nicolena.
Leonia, Leona, Leona, Leonah, Leontine
Lestina, Lestie, Lestah, Tina
Lestiva
Lettice
Leticia
LettieorLettymay be a nickname for Letta, Letha, Leta, Leatrice, Lettice, Leticia, Violet, Violetta, Viletta, Louisa, Loretta.
Levanch
Levease
Levity, Levina, Levvie, Lev
Libbie or Libby is a nickname for Elizabeth or Elisabeth. It can also be a nickname for for Libelia, Liberia, Isabel, Liberty, Lydia, Libertad, and Olivia.
Lidia, Liddia, Liddie, Liddy, Lydia
LillieorLillymay be a nickname for Lillias, Lillius, Lilla, Lillian, Lilian, Lily, Lilith, Lill, Lila, Lilia, Lilli, Liliana, Liliane, Lilyan, Lilias, Lili, Lilibet, Lila, Lilah, Lilac, Lila, Liliah.
Lilith
Lindy is a nickname for Clarinda, Linda, Celinda.
Linny, Linnie, Malliefor Malinda.
Lissiefor Allissa, Alisa, Alice, Alicia, Lisa, Lisbeth, Malissa or Melissa.
Livvie, Livinda, Livinia, Lyvina
Lizziemay be a nickname for Elizabeth, Elisabeth, Eliza, or Liza.
Loantha, Loanthia
Lodacia, Lodacie, Lodasia, Lodecy, Lodacy
Lodentia
Lodusky
Lola, Lolah
Lonah
Loneal
Lonnie
Lorabelle
Loraleen
Lorany, Loreny,nickname Lora, Lany, Reny, Rany
Lorellen
Lorena
Louella, Luella
Louisiana
Louvisa, Vicie, Visie
Lovina, Lovey
Lottiemay be a nickname for Charlotte, Lotta, Carlotta, Loretta, Charlotta.
Lucretia, Crete, Lu, Cretia
Lucymay be a nickname for Lucelia, Lucilia, Luciana, Lucida, Lucile, Lucette, Lucettie, Lucita, Lucerne, Lucerna, Lucille, Lucinda, Lucia, Lucretia, or Lucina.
Ludema
Luddie, Ludy for Ludacia, Ludasia
Luella
Luenda, Luendra
Lufanna, Lufauna, Lufannie, Lufanny, Lufany
LuluorLulamay be a nickname for Laura, Luella, Luellen, Lucia, Lucretia, Louella, Luelle, Ludella, Eulalia, Eula, Louise.
Lura
Lurintha
Lutera
Luthera, Lutheria
Lutita, Lutie, Luttie
Luvina, Luvinia, Luvey
Lydia, Dede, Dee
Lyvina
Mable, Mabel, Mabe, Mabey
MaggieorMaggymay be a nickname for Magdelina, Magdalena, Magdeline, Magdelina, Magda, Margaret, Margaretta, Magnolia, Margarita, Margareta, Margery, Marge, Madeline.
Maha may be a nickname for Mahabeth, Mahala, Mahalia.
Mahuldah, Mahulda, Huldah, Huldie
Maie, Mai
Maina, Mainey
Mallie is a nickname for Malvenia, Malvena, Malvina, Mallory.
Malora
Malta
MamieorMamefor Marget, Margaret, Mary, Marie, Maria, or Marietta.
Madge for Magdelina, Magdeline, Margaret, Marjorie.
Manassas, Mannie, Mana
Manoah, Manoa, both male and female.
Maurine
Marah, Mara
Marcel, Marcele, Marcella, Marcelia
Margarita,Margherita,Margherite
Marilda,Realdy, Rildey, Rilda
Marialice
Marine, Marina
Marrilla, Marilla
Marsey, Marsina, Marsena
Marsylvia: Marsie, Marsy, Mars, Sylvia
Margaret, Peg, Peggy
Margeteta
Margret:We see many Irish immigrant women with the spelling of Margret, as opposed to the more common Margaret.
Marilla, Mary
Mary, Marey
Marrette
Marthey, Marthy, Marty, Marge, Patsyis a nickname for Martha.
Marvel, Marvelina, Marvella, Marvela
Marzel, Marzella
Masie, Mazie, Maisie, May
Mattiefor Martha, Meg, Margaret, Matilda, Mathilda, Madeline.
Matilda, Tillie, Mathilda, Hildah, Hilda
Mat for Martha
Maud, Maude, Maudie
Mae, May
Mayflower
Manage
Marniba
Massina, Messina
Matie for Matilda
Maven
Mavis, Mave
Mayotta, May
Mayme
Mayson, May
Maytee, May
Mazie
Medais a nickname for Almeda.
Medorah, Med, Meddie, Dorah

Mehitable, Mehetable, MehatableHettie, Hattie
Melaninna
Melda, Imelda
Melissa, Lissa
Melnina
Melody, Mellody
Melvina, Mevinia, Vinnie, Mel, Mellie
Menafor Minerva, Wilhelmina, Philomena, Mina, Almena, Euphemia.
Menerie, Mennie
Melvina, Mellie, Mel, Vina
Mercy(may also be a nickname for Amercia)
Meriwether, Meriweather, Meri

Meribah, Meri
Meryl, Meril
Messina, Massina
Metta, Meta, Mita
Mexico
Mianna, Miannah
Mice or Mesie we've seenused as a nickname for Alice.
Michal, Michaline, Michalina
Milcah, Millie
Milliefor Mildreth, Millana, Milana, Amelia, Millicent, Mildred, Mildreth, Antemilla or Antimilla.
Mindwell
Mindy for Melinda, Arminda.
Minerva, Minnie
Minnesota
Minitour

Minna
Minniemay be a nickname for Mary Ann, Elmina, Minerva, Minna, Minetta, Mintha, Minta, Minette, Wilhelmina, Philomena, Armina, Arminda, Rasmine or Mina.
Mina, Minnie or Ellie for Elmina, Rumina.
Minerva, Nerva
Minta for Arminta.
Missouri

Mitt, Mittie, Mitty (interestingly, Mittcould be a nickname for Martha)
MollyorMolliecan be a nickname for Mary or Margaret. Polly is another nickname for Mary. Both can also be used as a name in their own right.
Mona
Moroa, Moroah
Mornilva, Mornie
Murinda
Myfanwy
Myrtie, Myrty, Myrt, Mertie, Mert, Merty are nicknames for Mertense, Myrtis, Myrtle or Mertle.
Naava
Nancyfor Anne, Ann
Nabbie for Abigail
Nannie for Nancy
Namee
Naomi,Naoma, Omi, Omie
Narcissa
Nattieor Natfor Natalie, Nadine, Natalia, Renata or other names.
Nathie, Natthie for Asenath
Neamy,Naomi

Neeva, Neava, Neevah
Nellie, Nella or Nellyfor Ellen, Cornelius, Cornelia, Eleanor, Nelda, Helen, Helene, Janelle, or Janella.
Nese, Nesie
Nessie
Nestor
Neriah
Nettieor Netta for Annette, Eunetia, Jennette, Henrietta, Natalie, Harriett.
Nev, Nevada
Nicolette, Nicoletta, Nicola, Nicky
Nimiah, Nimah,Nim
Ninamay be a nickname for Ehnina, Karenina, Antonina, Antonia.
Nisha
Nita, Juanita
Noble
Norafor Elinor, Elnora, Eleanor, Eleanora, Leonora, Norah and in Scotland, the female name Norman.
Norcissa
Norman, Scottish female name
Normandy, Norma, Norman
Norva
Nunzia
Obedience, Obediently
Odeal
Oleta
Olliemay be a nickname for Olive, Ophelia, Olga, Ola, Olympia, Olena, Olva, Olinda, Olivette or Olivia.
Oliva
Olive
Olwen
Oma, Omie (Omie may also be a nickname for Naomi)
Offie for Theophilus, Theophilius.
Ona, Una
Opal
Ophila, Ophilda
Oprah, Ophrahmeans "fawn" in Hebrew
Orien
Oris
Orlanda, Orlando
OrphaorOrphiemay be a nickname for Orphelia.
Ora or Orie may be a nickname for Victoria, Aurelia, Aurilla, Aura, Isadora, Orianna, Oriana, Oredie, Orressia, Orlena or Orilla, Orcelia.
Orda, OrdelorOrdiemay be a nickname for Ordelyea.
Orlena
Orramell
Oressia
Orcell, Orsell, Orsella
Orilla, Rilla
Ortiemay be a nickname for Orthha, Ortha, Orthelia.
Otilla, Tillie
Ovie or Ovid may be a nickname for Ova, Ovidia, Ovedia.
Palmaneda, Pamaneda
Pamely, Pamela, Pammie
Pardon
Parasetta
Parlow, Parlie
Parne
Parnel, Parnell, Nell, Nellie
Parthy
Parthenia, Parthena,Parthie, Tenie, Thenie
Pat, Patsy, Patty, Pattie for Patience. Martha Washington's nickname was Patsy.
Pauline
Peachie, Peach
Pearl, Perletta, Perlettie, Perliettie, Pearlie, Pearlina
Peggy or Peg for Margaret.
Pegger
Penthesilia,Penthesia, Pentha
Permelia, Pemelia, Pamelia
Pernell, Pernella
Pernolia
Perces, Persis, Percy, Persy
Persephone, Persephonia
Persila, Persilah, Persilla, Persillia
Pharis, Pharady
Pheby, Phoebe, Phebe
Phenie for Tryphena
Phia
Phidelia, Phidie, Delia
Philadelphia, Delphia, Delphie, Phila, Phillie
Philinda, Phillie, Linda
Philomena, Mena, Phila
Phylotho
Phinetta
Phy, Lema, or Dema may be a nickname for Phydema, Phylema
Pleasentry, Pleasantry
Pleasant
Pluma
Pistole
Pleasant
Pocahontas
Pollyis a nickname for Maria or Mary, which was derived from another nickname for Mary,Molly. Both are sometimes used as a name in their own right. (Note: Maria "Polly" Jefferson, (1778-1804) Daughter of Thomas Jefferson)
Poppy, British
Popsey, British
Posey
Preserved
Presilah, Presila, Presilia, Pressilia, Presilliah
Prissie or Prissy for Priscilla.
Prudence, Prudy
Purlie, Pearliefor Pearl or Perle, Perla, Pearle, Perline.
Quest, Questina, Questiva
Quill
Quilla, Quillie
Quincy, Quincia
Quinn, Quinnley
Quinney
Quintessence
Quintia, Quinta
Quintina
Quinty
Queen, Queenie
Questa, Questie
Quinby, Quenby
Quincy
Quarry
QuintessaTessa, Tess
Racky
Rachael, Rachel
Rae, Ray
Raffaela, Raffy
Ramona, Ramonda
Rass or Rassy for Rasmine. also Minnie for Rasmine.
Rayoma
Rebanis
Rebecca, Rebechah, Rabecha, Rebechak, Rabachak, Rebacah, Rebichak
Regina
Reffa, Reffie
Rehan, Rehanna, Rehannah
Reizel
Rejzla
Renafor Lorena, Renata, Rene, Renita, Renee, Renate, Irene, Serena.
Renewed
Resolve, Resolved
Reethie, Reeth, Rethie, Reethy, Rethy may be a nickname for Retha.
Rhea or Ria for Maria.
Rhett for Henrietta, Henriette
Rhoda, Rhodie, Rhodey or Rodi, Rhodabell
Rhodaline
Rilla, Orilla
Rina
Rindy for Marinda.
Rintha for Emarintha
River, Rivers
Rivka, Rivvie
Rodabelle, Rhodabelle
Roma
Roe for Roella, Roelia, Roellia.
Romer
Roseyis a nickname for Rosealiza, Alerose, Rose, Rosa, Rosabel, Rosabelle, Rosabella, Rosalie, Rosalinda, Rosalind, Roslyn, Rosaline, Roseline, Rosaleen, Rosina, Rosamond, Rosanna, Rosannah, Rosmond, Roseann, Roseanne, Rose Ann, Roselle, Rosetta, Rosella, Rosalia, Roena or Rosemary.
Rossi, Rossie, Rossa
Roxa, Roxie, Rox for Roxanne
Ruby
Rue or Ru for Rue, Ruthy, Ruie, Rumina, Rumena, Ruhema, LaRue, Ruella, Ruenna.
Ruhema, Ruhie
Ruiamah
Ruth, Ruthetta, Rue, Ru
Sabina, Sabra, Sabara, Sabarah
Sadie, Sadye, SaideeorSaromay be a nickname for Sarah or Sara.
Sal, Sally or Sallie for Sarah.
Sal, Salome, Salomie,Saloma, Salume, Salinda
Sanctuary
Saphina
Saphira, Sapphira, Sapphirah
Sarepta, known as "Reppie"
Sarah, Sally
Sarra, Sarrah, Sarrie
Sassafrass Sassy, Sassie
Savannah, Savanna, Savie, and Savannah, Georgia
Selma
Sep or Sephie may be a nickname for Sepha, Sephora.
Sepha for Josepha.
Serah
Serepta
Shadrach, Shadrack, Shadey, Shade
Shamlyn
Sheba for Bathsheba.
Sheloah, Sheloa
Shem, biblical, Shemmie
Shiloh
Shirley, Shirl
Shubel
Sibbiah, Sibbia, Sibbie, Sibah

Sibilla, Sibillia, Sibilia, Sibila, Sibelia, Sibbelia, Sibbel, Sibble
Silas, biblical
Silence
Silomus, Siloma
Silvia, Silvie
Sinia, Sina, Sinah
Sinda, may befor Lucinda
Sissila, Sis, Siss
Sis, Sister
Snow
Sohila
Sonora
Sophina, Sophronia, Sophia, Sofia, Sophila, Sophilia: Sophie
Star
Statieis a nickname for Anastasia, Statia, Staci, Stacie, Stacey.
Stella
Sula
Surah, Sura
Surrissa, Syrissa
Susieis a nickname for Sue, Susan, Suzanne, Susannah, Susie, Susanne, Susanna, Suzanna, Susette, or Suzette.
Suvia
Sydia, Sydnah, Synthia, Syndah
Sylva
Szjena, nicknameJennie
Tabitha, Tab, Tabby or Tabbie
Talitha
Tamar, Tam, Tammy
Tamson, Tammy
Tamsie, Tam
Tannie, Tanna, Tannah, Tanny
Tempe, Tempy, Tempey, Tempieare nicknames for Temperance
Tenie, Tena, Tenia
Tennessee, Tennie
Terah
Terrebella, Terrabella
Tessatuth, Tessa
Tessie
Texas (Appalachian singer Texas Gladden), Texie, Tex
Thalia
Thankful
Theodicia, Theodocie, Theodosia: Docia, Docie, Dicia, Dosie
Theordora, Theodorah, Theordoria: Dora
Thenia, Thenie
Therina, Tharina
Thirza, Thyrsa, Therza, Therzie,Thursy, Thurza, Theriz
Therezay
Tillie, Tilly, Tildy for Otilla, Matilda, Natalie, Tilda or Tallulah.
Tiff or Tiffyfor Tiffany, Tiffani, Tiffanie.
Tinafor Christine, Christina, Celestine, Celestina.
Tiris, Tiras, biblical
Tirza, Tirzah, Tirzie, Tirzey
Tish is short for Letitia.
Tissie, Tissy
Tranquoline
Trinity, Trin
Trixiemay be a nickname for Bea, Beatrix, Beatrice, Trixy.
Truda for Gertruda.
Trudy, Trude, Gert, Gertieare nicknames for Gertrude.
Tryphena, Phena, Phenie
Udolphia, Udol or Phia
Ulyssa, Lyssa
Una, Euna
Unicy
Ura, Ketura, Keturah
Uri, biblical
Ursa, Ersa, Ursie, Ersie
Uvie, Uvymay be a nickname for Uvabelle.
Vashti
Veda
Velma
Verafor Guinevere, Veronica, Lavera, Verlene, Verena, Verene, Verina, Verine, Verla, Verlia.
Vergie
Venus
Veronique
Vernick,Vernicka, Nickie, Nicky
Vesta, Vestie, Vestymay be a nickname for Silvestra or Vesteria.
Vicille, Vicie, Cillie
Victoire, Vic
Victoria after Queen Victoria 1819-1901 "Alexandrina Victoria" was called "Dina" when young. She was Queen of the United Kingdom of Great Britain and Ireland from 20 June 1837 until her death in 1901. On 1 May 1876, she adopted the additional title of Empress of India. She was baptised Alexandrina after one of her godparents, Emperor Alexander I of Russia, and Victoria, after her mother.
Victory, Vic, Vicki
Vi, Viviemay be a nickname for Viola, Violet, Viessa, Virginia, Vida, Vicenza, Vica, Vigilia, Violante, Virtue, Viveca, Victory, or others.
Vinnie for Lavinia, Lavina
Viola, Ola, Vi
Vionetta, Netta, Nettie, Vi
Virginia, Ginny, Virge, Vergie
Vista, Vistie, Vis
Viva, Veva
Wales, Welsh, Welshie
Wanola, Ola
Welsh, Welshie, Wales
Welthy, Wealthy, Weltha
Whyla
WillaorWilliemay be a female nickname for Willia, Wileen, Willene, Wilhelmine, Willabella, Willabelle, Willamina, Willamine, Willeen, Willene, Willemina, Willetta, Willette, Williamina, Willie, Williebelle, Wilmette, Willmina, Willmine, Willy, Willybella, Wilma, Wilmette, Wilmina, Wilna, Wilhelma or Wylma.
Wilda, Wildie, Willda
Wildgrube
Wilhelmina, Mina, Minnie, Willie, Helmy
Wilmont, Montie, Willa, Willie
Winniefor Winona, Winifred, Winnefred, Winefred, or Edwina
Woe
Woethe
Zeline
Zillie, Zilpha, Zilphia
Zinamay be a nickname for Zinaida.
Zora, Zorrie, Zorry for Zoretha.
Val for Valerie.
Vanzula, Vannie
Veda or Vede for Nevada.
Vel may be a nickname for Velzora, Velmira, Velina, Vellina.
Vergie for Virginia.
Verity
Vide, Vira may be a nickname for Alvira.
Vida for Violet.
Vise (pronounced Vi cee) was a nickname for Louvisa
Vista, Vistie, Vis
Welda
Wella
Xandra, Xandre
Xanthene, Xanthina, Xanthena
Xanthe
Xena
Xenia
Xenobia
Xenodice, Xennie, Dicey
Xylda
Yanethebrew
Yetta
Yolanda
Youarkee, Arkie, Arkee
Zebina, Zebbie
Zelah, Zella, Zella, Zellah
Zelda
Zella
Zelma
Zemira, Zemirah
Zenda, Zinda
Zermah
Zerua
Zeruiah, both male and female, also known as Zeru
Zilpah, Zilpha,Zilphia, Zilphy,Zilpa, Zillie, Zilly, Zill
Zina
Zofa
Zorada
Zorbina, Zorbie, Bina
Zula, Zule, Zulie
Zulaica, my own relative is "Ida Zulaica Wilsey White" of NY, NJto TX
Zynettia,Zynetta, Zynettie known as Nettie
...and click here to view 1000's of antique ID'd family photos on Ancestorville.
Debra's otherAntiques Devonsite is here.
Please check out our Victorian male, boys nickname pagehere.

Debra's otherAntiques Devon, England site is here.
(Video) Daisy - Girl Baby Name Meaning, Origin and Popularity
©2021 Ancestorville™ Images,this page, and this nickname text cannot be shared or duplicated without explicit permission. You are more than welcome to link directly to it, or post this page URLto social media.

Join ~debraon facebookatAncestorville Genealogy on the topic of lost family antique items, early photographs, genealogy surnames and family history topics. Search our site for your lost family antique material by family surname, county, town, city and state.

Join Ancestorvilleon facebook!

...CLICK HERE to view and buy 1000's of antique ID'd lost family photos for genealogyat Ancestorville
Posted by Debra Clifford on
(Video) Unique & Rare Shakespeare Baby Names for Girls...that are Attractive too! | RAQUEL CRUZ
(Video) GIRL Names! 100 Most Popular Baby Girl Names in English | How to Pronounce Girl Names
Share this post
← Older Post Newer Post →
Liquid error: Could not find asset snippets/disqus.liquid
FAQs
Other Bible names for girls that have ranked highly over time include Deborah, Hannah, Judith, and Ruth. The Bible is also the unlikely source for some of the trendiest girls' names today, including Delilah – the top girl name starting with D – as well as Ada, Phoebe, Lydia, Naomi, and the many variations of Eve.
What's an old fashioned name for a baby girl? ›
Ada, Agnes, Alice, Amelia, Audra, Audrey, Ava, Beatrice, Bessie, Blanche, Cicely, Cora, Cordelia, Dinah, Dora, Dorothea, Dorothy, Harriet, Edith, Elise, Elsie, Elspeth, Emily, Emmeline, Esme, Eva, Evelyn, Evie, Flora, Florence, Greta, Gretchen, Harriet, Hattie, Irene, Iris, Ivy, Lena, Lilith, Lillian, Mabel, Maisie, ...
What were popular girl names in the 1850s? ›
What is God's daughter name? ›
The Four Daughters of God are a personification of the virtues of Truth, Righteousness/Justice, Mercy, and Peace in medieval Catholic religious writing.
What girl name means God's blessing? ›
Genevieve – French, meaning "God's blessing."
What names mean God's gift? ›
What name means princess in the Bible? ›
Sarai. A Hebrew name, as a variation of Sara, Sarai also means princess.
What is a spiritual name for a girl? ›
Spiritual Baby Girl Names

Kezia: This biblical girl's name of Hebrew origin means 'cinnamon'. It has great spiritual significance. Naomi: Biblical origin name meaning "beautiful, agreeable". Ruth: This Hebrew name means "companion" or "vision of beauty".
What is a powerful name for a girl? ›
What is the oldest girl name? ›
Oldest Female Name in History

Per Oldest.org, Neithhotep is the earliest named woman in history. A queen consort of Pharoah Narmer in Ancient Egypt, Neithhotep had her name recorded between circa 3150 and 3125 BCE.
What were popular girl names in the 1800s? ›
What were common girl names in the 1800s? ›
What is God's wife's name? ›
God had a wife, Asherah, whom the Book of Kings suggests was worshiped alongside Yahweh in his temple in Israel, according to an Oxford scholar. God had a wife, Asherah, whom the Book of Kings suggests was worshipped alongside Yahweh in his temple in Israel, according to an Oxford scholar.
What girl name means heaven? ›
Which Bible name means gift from God? ›
Behold Mathew. This Hebrew name means "gift from God."
What name means sent from God? ›
Mikah Meaning "One who is like God," the name Mikah has Hebrew origins. HansMeaning "A gift sent from God," the name Hans originates in Sweden where it is widely used as a name for boys.
What's a beautiful girl name? ›
What name in the Bible means beautiful? ›
Adah: There were two wives in the Bible with this lovely girls' name which means "beautiful." Apphia: This biblical girls' name appears in the New Testament—it's the Greek version of an ancient Hebrew moniker.
What girl name means God's strength? ›
Gabriella

This is the feminine version of Gabriel, a Hebrew name meaning God is my strength.
Along with Isabella, girl names in the US Top 1000 meaning God include Elizabeth, Danielle, Gabrielle, Samantha, Michaela, and Jane. Elizabeth and Jane have dozens of popular variations that also mean God, including Elsie, Eliza, Elise, Janet, Jean, and Joan.
What girl name means faith? ›
Imani is a Swahili name, meaning 'faith'. It's a variation of the name Iman, which was born by Somalia's supermodel.
What is a powerful name for a girl? ›
What is a spiritual name for a girl? ›
Spiritual Baby Girl Names

Kezia: This biblical girl's name of Hebrew origin means 'cinnamon'. It has great spiritual significance. Naomi: Biblical origin name meaning "beautiful, agreeable". Ruth: This Hebrew name means "companion" or "vision of beauty".
What girl name means sent from heaven? ›
What is a royal female name? ›
75 Royal Baby Girl Names

Bernice - Greek she who brings victory, ruler of a Roman providence from 39 B.C. to 92 A.D. Isabella - Spanish/Italian version of Elizabeth, pledged to God. Name of the famous Queen of Spain who financed Christopher Columbus. Phillipa - Greek, feminine version of Philip.
What girl name means God's strength? ›
Gabriella

This is the feminine version of Gabriel, a Hebrew name meaning God is my strength.
What names mean God's gift? ›
What names mean blessed? ›
Who is like God female names? ›
Along with Isabella, girl names in the US Top 1000 meaning God include Elizabeth, Danielle, Gabrielle, Samantha, Michaela, and Jane. Elizabeth and Jane have dozens of popular variations that also mean God, including Elsie, Eliza, Elise, Janet, Jean, and Joan.
Imani is a Swahili name, meaning 'faith'. It's a variation of the name Iman, which was born by Somalia's supermodel.
Which Bible name means gift from God? ›
Behold Mathew. This Hebrew name means "gift from God."
What name means a blessing from God? ›
Gia. Gia is a common diminutive of the full name Gianna. The name has Italian roots and in Hebrew, it means ' God's blessing.